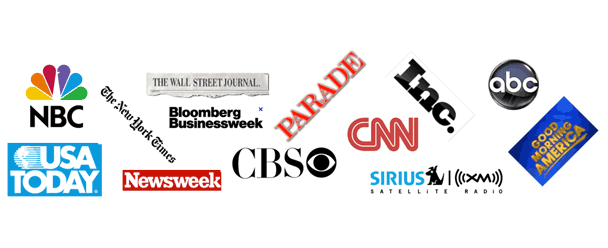 MACCABEE HAS HELPED CLIENTS GET THEIR MESSAGES INTO THE PAGES OF MEDIA OUTLETS FROM THE WALL STREET JOURNAL, THE NEW YORK TIMES AND THE WASHINGTON POST TO BUSINESSWEEK, NEWSWEEK, INC., USA TODAY, PARADE AND ENTERTAINMENT WEEKLY.
We've also generated coverage for clients on blogs and websites from The Wall Street Journal's Law Blog to the Barbeque Sauce Reviews Blog; into trade magazines from Surgical Products and Travel Weekly to Nation's Restaurant News and American Lawyer; on the airwaves of National Public Radio and XM/Sirius Radio; and on ABC-TV's "Good Morning America" and CNN-TV's "Anderson Cooper 360." Yet none of that media coverage matters unless the exposure helps our clients achieve their business objectives.
Maccabee generates media results – often staggering, "oh-my-god-I-can't-believe-the-buzz" level results – for companies seeking network, local and cable TV, radio, online, trade and consumer magazine, syndicated newswire and daily newspaper coverage for their products and services.
From earning 422 TV stories in 127 markets for OfficeMax to earning hundreds of business-to-business trade placements for Hazelden in Addiction Professional, Workforce Management, Employee Assistance Report, Clinical Psychiatry News, Counselor and Behavioral Healthcare magazines, Maccabee's media relations campaigns are strategic, creative and relentlessly sales-results driven.