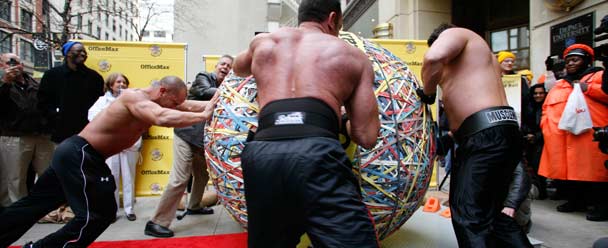 Your customers may be immersed in a virtual world of websites, social media networks, online games, computer-generated images and digitally enhanced reality.
Still, few marketing strategies are more powerful than experiential events that put your product into the hands (and sometimes, mouths) of your target consumers.
Winner of the "Most Creative Publicity Stunt of the Year" award from the International Festival and Event Association, our agency is expert at coordinating and publicizing events from single-store grand openings to 900-store coast-to-coast marketing blitzes and live trade show theater. Who else would employ pet psychics to 'read the minds of cats and dogs' at 32 simultaneous PETCO store grand re-openings? Produce dueling Elvis Presley impersonator events promoting M&M/Mars chocolates in Denver? Create a Human Art Gallery that painted the history of Chicago on the backs of 10 fashion models for OfficeMax? Or send America's #1 Groucho Marx impersonator storming through supermarkets from Dallas to Philadelphia for Malt-O-Meal Cereal?
Wherever your customers are, Maccabee is there with a creative experience that will build your brand, drive media coverage and online buzz, and spark an emotional connection between you and your consumer.