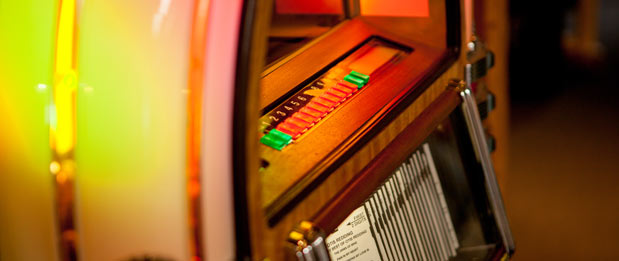 How much fun would you have working at Maccabee Public Relations?
Consider our annual retreats and outings featuring private chefs, blues guitar anthems and magicians. Add in-house training and professional development events featuring guest speakers from Twin Cities advertising, mobile marketing, online video and search engine optimization agencies; unlimited free soda pop and an ever-refillable "Candy Bowl of Temptation." Combine that with generous health, dental, IRA and other employee benefits; monthly therapeutic in-office massages from Sister Rosalind Gefre Massage Centers; and sit-stand ergonomic computer workstations. Did we mention the jukebox filled with 1950s Chicago blues and Motown soul classics and the remote controlled disco ball?
It's no wonder Maccabee has been selected five times as one of "100 Best Companies to Work For" by Minnesota Business magazine. Along with that list of workplace benefits, Maccabee employees have the pleasure of collaborating with a high-energy, dynamic team to deliver amazing results to clients.
Current Openings: please check back for future opportunities
Frequently Asked Questions (and Answers!)
Why is Maccabee a Minnesota Business "Best Place to Work?"
Fortunately, our staff voted us in! Consider our annual retreats and outings featuring blues guitar anthems and magicians. Add in-house training and professional development events with guest speakers specializing in other marketing and communications disciplines; unlimited free beverages, free downtown parking and agency-sponsored cell phones. Combine that with generous health, dental, retirement savings; monthly therapeutic in-office massages and workstations. Did we mention the jukebox filled with Chicago blues and Motown soul classics and the remote-controlled disco ball? Along with that list of workplace benefits, Maccabee employees have the pleasure of collaborating with a high-energy, dynamic team to deliver amazing results to clients.
I'm interested in continuous learning. What do you offer?
Continuous learning and professional development, tailored to each of our employee's individual goals and skills, are tenets of our agency's philosophy. Maccabee offers employees numerous ways to grow and develop their potential, including agency-sponsored association memberships (such as Public Relations Society of America or International Association of Business Communicators) and PR and marketing conference attendance to partial tuition reimbursement for advanced degrees (on a select, case-by-case basis), professional magazine subscriptions, in-house guest speakers and more. We even grant each full-time employee a paid personal development day every year so they can experience something new that's not related to PR – from helicopter piloting to cooking, kayaking, photography and more.
What's a typical day like at Maccabee?
The best thing about working in PR at Maccabee is that no two days are alike: Some days we write. We strategize. Pitch the media. Counsel clients in the most effective use of YouTube, Twitter, LinkedIn and other social media channels. Other days we engage with influencers and bloggers. We research, report and recommend bold new plans for clients. Sometimes we do all those things in a single day! However, there are benchmark activities that anchor everything we do:
We proactively bring unexpected, new marketing and communications opportunities to our clients.
We nurture long-term relationships of trust with clients by proving ourselves to be strategic, flexible, thoughtful and responsive to client needs.
We approach every client phone call, client meeting, and PR project with integrity, intelligence, respect and, sometimes, a sense of humor.
We deliver more than is expected.
We cultivate professional excellence, good judgment and the highest standards of client service.
We treat our clients' budgets as if their money was our own.
We work smart. We laugh. We're a team that enjoys achieving excellence together, and sharing those accomplishments.
Does the agency have a dress code?

We do, indeed. Maccabee employees are viewed as trusted business counselors; as such, we expect our employees to dress the part. We wear business casual on most days and business professional when meeting with clients or attending professional events. We celebrate Fridays with casual, jeans day.
Does Maccabee promote from within?
Yes! We expect our employees to continually add to their professional knowledge and PR skills.  We reward those who demonstrate growth with promotions, new responsibilities and compensation increases.
What are the most important characteristics that Maccabee looks for in a candidate?
We look for everything from rock solid writing skills and track records of media pitching success to proven mastery of social media marketing and preternatural research skills. But the most important characteristics include:
Crackle with positive energy. Never accept good enough. Strive for personal and professional excellence. Reach for the extraordinary.
Be great enough to be humble. Embracing criticism is an essential part of achieving greatness.
Carry an attitude of insatiable curiosity, for that is the secret to fostering great creativity.
Be relentlessly honest and live your business life with integrity. We never lie to our clients, to our staff, to the media or to anyone else with whom Maccabee works.
What types of positions do you usually hire for?
We're a strategic PR and online marketing agency with expertise in all things media relations, corporate communications, content marketing and social media strategy, including influencer marketing management. We hire assistant account executives, account executives and senior account executives who are top notch writers with public presentation skills and who display mastery in media relations, content marketing, social media for business and other, more traditional marketing methods like trade shows and experiential marketing.
How would you describe the corporate culture at Maccabee?
Driven, supportive and collaborative. Our clients require excellence from us, so we encourage excellence, precision and focus from our Maccabee employees. During business hours, a typical Maccabee employee will be juggling multiple projects for multiple clients in a demanding yet collegial and creative environment that encourages new ideas. But we also believe deeply in encouraging staff to have a balance between fulfilling work and their personal life with family and friends. Unless there's a special event or unusual deadline, most staff are out of the office by 5:30 p.m. on most days. Oh, and we have a massage therapist once a month!
What is your hiring process like?
We look not only for the right mix of professional skills, knowledge and experience, but for the right attitude and personal character/values, as well:
If your cover note and resume sparkle with crisp narrative that succinctly illustrates your professional success and experience (see common cover letter mistakes and top-performing resume secrets on MaccaPR), we'll set up a brief phone call with you to explore the opportunity.
If you shine with enthusiasm and smart conversation on the phone, we'll invite you in for a first interview with agency management.
If you present yourself with professionalism – from your attire to your portfolio to your nonverbal and interpersonal communication skills – we'll invite you back a second time to meet our staff and take a 60-minute writing and PR knowledge test. Not many candidates make it to the finish line. But if you think you have what it takes, reach out to us!
Do you work with contractors/freelancers?
Yes, we sometimes do hire contractors or freelancers if there are special needs for a client that we can't handle internally or we need to augment our employees' capacity. We're especially collaborative with other agencies and often work with subject matter experts to provide our clients with the best comprehensive marketing and communications programs.
How often do you usually hire?
We don't hire often. But, when we do, we hire well.
If there are no job listings currently on your site. Will you still accept my application?
Of course! We are always looking for talented professionals. We review every resume that crosses our transom. If we see a candidate who looks irresistible, we'll initiate a dialogue even if we don't have any current positions open.
Do you offer internships?
Yes and no. Although our PR agency doesn't have a formal program, we do occasionally offer internships which typically average three months in length. When we do, a call for applications will be posted on our website. Make sure to come back to our site to check!
Are your internships paid? Can I get school credit?
We don't believe in sweat shops! Yes, we pay our interns and can work with your college or university to arrange for credit.