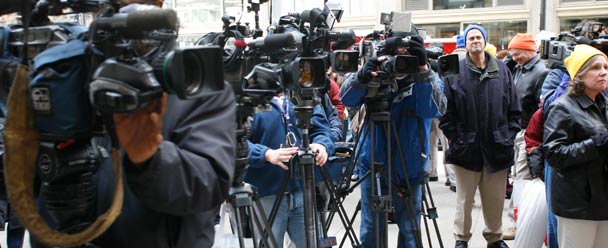 Are editors, producers and other news media calling your company for a response to a breaking story? Ask yourself these three questions:
Are the executives of your company prepared for interviews with TV, radio, newspaper, magazine, online reporters or bloggers?
Can your spokespeople effectively communicate the key messages, mission and values driving your organization, in 30 seconds or less?
During a crisis, would you be ready to handle negative media attention in a way that would preserve your company's reputation, customer base and shareholder value?
Whether you're a Fortune 500 corporation, a nonprofit organization, a professional services firm or a retail chain, Maccabee can help with expert training for media interviews and presentations.
For example, University Bank Senior Vice President John Bennett was delighted to be crowned the 68th King Boreas to reign over the Saint Paul Winter Carnival, until he discovered the real challenge was giving media interviews and speeches – many of them over the course of a year. Through several coaching and experiential practice sessions, Maccabee trained Bennett to adeptly handle hundreds of print and broadcast interviews and appearances.
"I am so grateful to Maccabee for preparing me for the interviews required of my role as King Boreas in the Saint Paul Winter Carnival," says Bennett. "The media training I received from Maccabee actually made my 150+ interviews fun, with no anxiety or nervousness."
Media Training Across a Breadth of Industries
Among the executives our team has trained:
Senior management at Pilgrim's – MN & WI (formerly known as Gold'n Plump)
Executives with healthcare giant, Humana
Spokespeople for Cushman & Wakefield/NorthMarq
Executive directors at the non-profit Hazelden
Top management at HALO Innovations
Representatives from Kemps Dairy
Spokespeople for the Minnesota State Fair
Managers with the Twin Cities Natural Food Co-ops
C-level executives with software developer International Decision Systems and medical device company American Medical Systems.