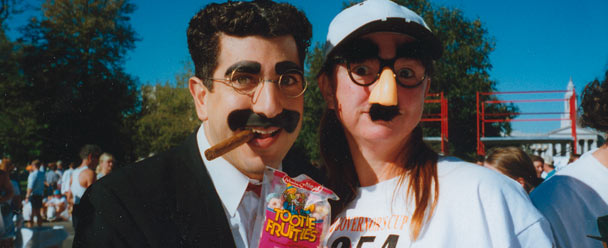 AN AGENCY THAT COLLABORATES TO ENSURE CLIENT SUCCESS
"Maccabee is hands down the best damn PR firm. Period," says Jason Medvec.
Who is Medvec? He's the president of Medvec-Eppers Advertising, one of a dozen sales promotion, advertising, marketing, SEO, graphic design and interactive agencies that Maccabee partners with to support our clients. For example:
To drive national consumer visibility and sales for the Gold'n Plump and Just BARE chicken brands, Maccabee worked hand-in-hand with agencies including Haberman, Innova Marketing, GdB/Gabriel deGrood Bendt and Clockwork Active Media Systems
To ensure that American Medical Systems' five-city "Keeping Sexual Intimacy Alive" campaign succeeded, Maccabee joined forces with web design firm Atomic Playpen, video producers StoneArch Creative, advertising agency Zimmer/Madich and copywriters, High Point Creative
To drive outstanding PR results for OfficeMax stores, Maccabee partnered with ad agencies DDB-Chicago and Escape Pod, interactive designers Toy of New York City and experiential marketing firm Innova in Minneapolis.
That photo of famed comedy star "Groucho Marx" you see above? It's from our "Walk This Way" food marketing campaign for Malt-O-Meal Cereal — a collaboration between Maccabee, event agency Innova and advertising firm Clarity Coverdale Fury which sent America's #1 Groucho impersonator on a coast-to-coast supermarket tour that generated media coverage for Malt-O-Meal in 500 newspapers, radio and TV stations, reaching millions of consumers.
Incredibly, Maccabee even collaborates with its competitors. In partnership with PR agency Padilla Speer Beardsley (PSB), we jointly won a national Silver Bulldog Award for a campaign produced for Minnesotans Against Terrorism. The program, "Speaking Terror's Name: A Campaign for Media Fairness," was selected as one of the two best Issue/Cause Advocacy campaigns in America. More than 29 million Americans were reached through 40 print stories and 46 TV and radio features, along with CNN-TV's "This Morning" and Fox-TV's "The O'Reilly Factor."
From partnering with the strategic marketing experts at Modern Climate to re-brand a precision measurement company to collaborating with SEO agency Top Rank Online Marketing to drive search visibility for a law firm, clients who hire Maccabee also gain access to a hand-picked roster of extraordinary partners – delivered seamlessly, cost-effectively and powerfully.
When a client's success is on the line, Maccabee forges partnerships with all of your marketing agencies. We're one PR agency that agrees with Ben Franklin's wisdom: "We must all hang together or, most assuredly, we shall all hang separately."